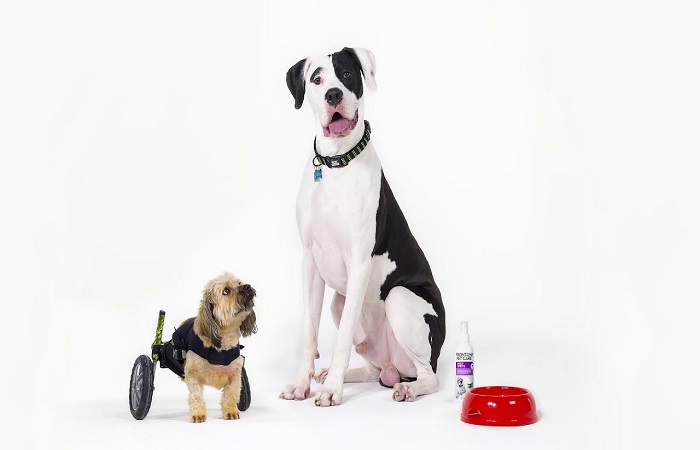 Filming Imperfectly Perfect Pets with Gok Wan
Recently I was invited to film behind-the-scenes for the Frontline Pet Care Real Pets Campaign, with none other than the Fairy-Gok-Mother (Gok Wan) and as soon as I saw the brief, I knew this would be a memorable shoot.
Three cats and three dogs were chosen from over 8000 entries to take part in a photo-shoot celebrating happy and healthy pets which embody what it means to be perfectly imperfect.
Our stars were:
Otto – a triple amputee Yorkshire Terrier Cross from West Molesey in Surrey
Claude – a brave cat from Carton in Oxfordshire who donated blood to save his sister
Winston – the beautiful blind, ginger cat from Newcastle-under-Lyme in Staffordshire
Carlos – the rescue tabby cat from Woodbridge in Suffolk who was only an hour old when his owners found him alone in a school bike shed
Oni – the rescue Great Dane pup from Redditch in Worcestershire came to his owners after not having the best start in life. The Dane was all ribs and missing toes after being starved and shut away
Liberty – the black Greyhound from Rotherham in South Yorkshire, who used to be a racing greyhound. But like many greyhounds after they hit retirement age, he was overlooked and spent 16 months in kennels. Now Liberty is part of the K9 Blood Donor team and has donated blood twice – saving the lives of 2 other dogs.
The day was all about showering these guys with gratitude and love, thanking them for their courage in adversity, and treating them to a top-notch photo shoot!
One by one, two by two, the pet-stars arrived, some with their designer pet wear, some with squeaky toys, and all had bags of happiness and confidence. Each of these gorgeous animals turned up ready to impress.
Gok Wan was picked for his know-how on photo and fashion shoots, but fitted this campaign perfectly as he is a proud dog owner and completely understood the needs of the pets on set; before any pictures had been taken, Gok was comfortably on all fours playing with his new furry friends.
"These pets are totally gorgeous"
We also featured the owners and how they had been impacted by their animals, through strength of character, courage and a fighting spirit to overcome their challenges.
Despite a detailed schedule of shots and ideas to work from when you're working with pets, nothing runs to a typical schedule – but this actually worked out in our favour, as we were able to grab all kinds of fun shots and were able to be really creative!
The shoot was actually quite emotional for me as it's not everyday for me to be working with pets, let alone some really special ones.
Gok made a really nice comment which summed up the day:
"If at the end of it all, we were able to pay them just a little bit more attention and shower them with an ounce of love for everything they had been through, then I think on this day, we've done a stellar job."
Wayne Campbell
Producer & Director @ON
@Wacfoo
Comments are closed.