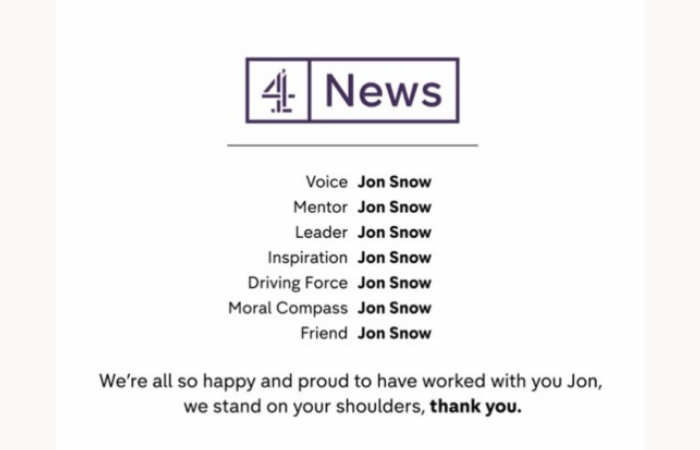 Farewell to Three Titans
2021 wrapped up with three heavy-weight news presenters signing off at their respective channels for the last time.
Jon Snow bowed out of Channel 4 News after 32 years at the helm. Social media was awash with tributes to the legendary presenter and there wasn't a dry eye in house after the heart-warming final tribute played out before his colleagues gave a standing ovation as he left the news set. Definitely worth a WATCH if you didn't catch it.
But the biggest shock came later when learning in Snow's interview with The Big Issue (December edition) that it wasn't his decision to leave after all.
"I made the decision when they [Channel 4] made the decision.

"It all came as a terrible shock, to be honest."

Jon Snow
…………………………………………………..
Sky News bid farewell to its Editor at Large Adam Boulton after 33 years of service at the broadcaster.
Who can forget Boulton's infamous live on-air bout with Alistair Campbell following Gordon Brown's resignation?
Or the time he carried on reporting after swallowing a fly?
Boulton told The Times his departure was a "mutual decision" as the channel develops for "the next generation".
…………………………………………………..
No longer happy within the constraints of the BBC, Andrew Marr sensationally quit the broadcaster after 21 years to "get my own voice back". Marr joined the broadcaster as political editor in 2000 and has presented BBC's flagship political programme on Sunday mornings since 2005.
However, a new chapter in the veteran broadcasters career beckons and Marr will soon be on the airwaves over at Global on LBC and Classic FM where he hopes to speak freely on environmental issues and politics.
…………………………………………………..
The New Year heralds' major shakeups at broadcasters.
And finally…
Comments are closed.