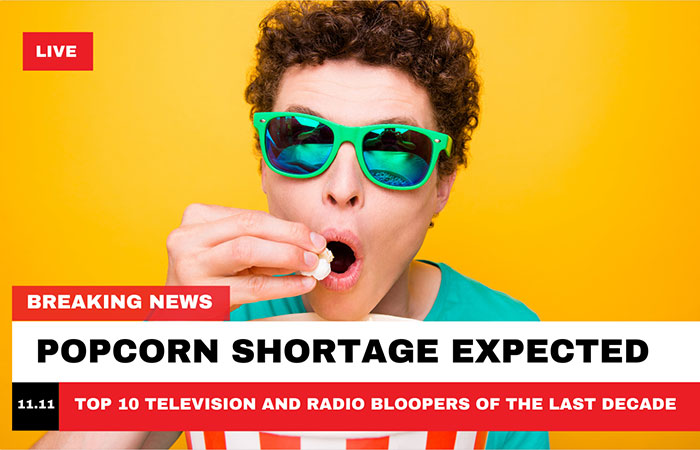 Top 10 TV and Radio Bloopers of the last Decade
There's nothing more exciting than watching your coverage go out on live TV or Radio. But what happens when it doesn't go exactly to plan? In honour of the highs and lows of live broadcast, here are our favourite on-air bloopers and blunders from the past decade. Enjoy!
10. Boaty McBoatface
BBC Radio Presenter James Hand coined a comical name that topped the polls and, in true British fashion, took on a life of its own.
9. A Missed High Five 🖐
Jeremy Corbyn gets a bit TOO excited when celebrating with Emily Thornberry at the count centre in Islington.
8. Freezing Out The Press
Boris Johnson seeks "chill" refuge to avoid interview with Good Morning Britain.
7. F*ck Yeah I Do!
BBC Radio 1's Glastonbury ticket giveaway causes PRIZE response from winner on their live show.
6. Brass Monkey
BBC Radio 4 stumble over sweary technician who features on their You & Yours programme.
5. A Real A$$
Nigel Farage takes a call from another dastardly Remainer!
4. Flipping the Bird
BBC Weatherman lesson 101… always know when you're live on camera!
3. NEVER Work with Children or Animals
Professor Robert Kelly is proving once and for all why you should never work with kids or animals.
2. HELLO Sailor!
Alison Hammond makes a splash on Good Morning Britain when she pushes sailor into the River Mersey.
1. 250,000 Reasons Why
In one of the decade's biggest "car crash" interviews, Diane Abbott becomes easy prey for Nick Ferrari on LBC.
Comments are closed.