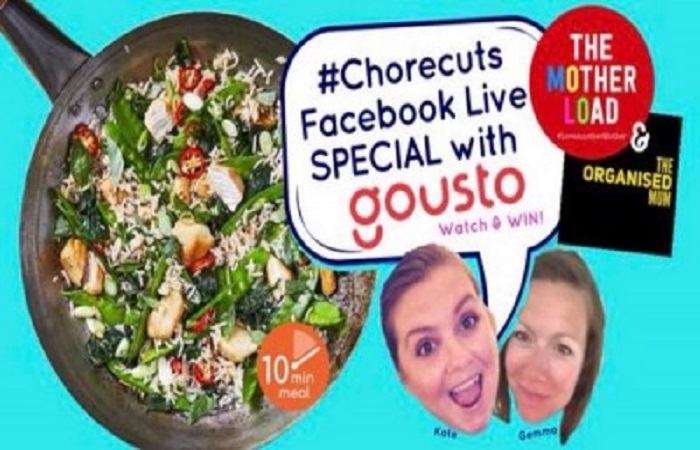 Gousto – #ChoreCuts – Ten to Table – Including Facebook Live
BACKGROUND
Our friends at Gousto came to us to get our help to launch their new 'Ten to Table' range of products, pre-prepped fresh meals that take only ten minutes to cook – ingenious! They really wanted to make a splash so gave us the opportunity to flex our creative muscles and come up with a campaign that really packed a punch.
OUR THINKING
Whether it's taking the bins out; doing the laundry; or even prepping and cooking the evening meal, chores are a part of everyday life.
And, while some jammy so-and-sos may get to sit back without lifting so much as a finger, most of us have to roll up our sleeves and get stuck in. But, not without our frustrations…
We polled the nation to find out what chores grate people's cheese the most, positioning Gousto as a way to help lighten the load; providing an easy and tasty solution to preparing the evening meal from scratch in just 10 minutes.
Collaborating with The Motherload (the 60,000 strong community for 'brilliant women, who happen to be mothers') and The Organised Mum, we got a unique insight into the humorous and canny 'chore cuts' mums across the UK take to make them easier. We then collated these results into a radio media tour, a Facebook Live broadcast and advertorial Youtube pre-roll.
RESULTS
Radio:
We reached a total of 29 radio stations with a combined listenership of almost 5 million. Stations included TalkRADIO, BBC Radio Scotland and BBC Radio Ulster.
Facebook Live:
With live streams across a total of 5 Facebook pages, we achieved viewing figures of over 75,000, and this figure is still growing now the episode is available on demand.
Youtube pre-roll:
Our promotional video for Gousto generated 58,000 targeted paid-for views on YouTube reaching a specified audience of mums.