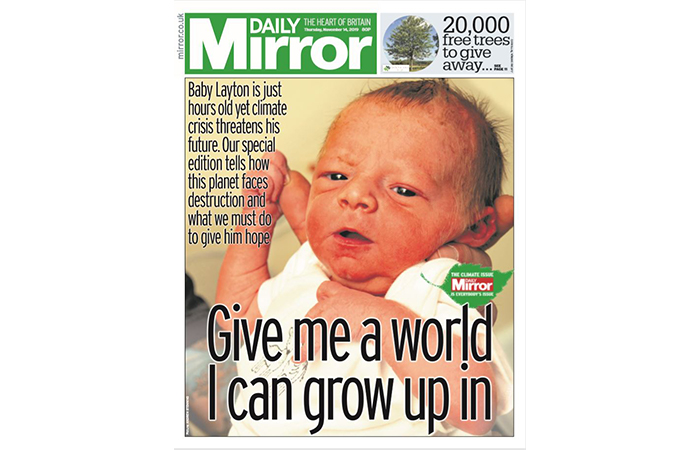 THE DAILY MIRROR – The Climate Issue
BACKGROUND
We were approached by The Daily Mirror to provide broadcast support to help promote their forthcoming special edition of the paper 'The Climate Issue'. It was the first ever edition of the newspaper dedicated solely to climate change and global warming.

OUR THINKING
Climate change is very topical in the current news agenda, so armed with a wealth of information, articles and expertise from Friends of the Earth, Extinction Rebellion, Woodland Trust, amongst others, we knew there would be keen interest from broadcasters.
The edition planned to identify locations within the UK that would be most affected by climate change – so these regions were our first port of call.  We also had access to high-profile climate scientists and the Editor of The Daily Mirror, Alison Phillips – who we made available to national broadcasters.  To really set the edition off, we pitched a front-page idea to the editor – featuring a new born baby, only hours old – to highlight how vulnerable our children will be to the impending climate disaster is nothing is changed. We then helped to source the child and set up an interview with the parents.
RESULTS
Our coverage was far-reaching, with the edition heavily featuring in the paper reviews of every main national broadcaster. In addition to this, we also secured two interviews on BBC World Service as well as LBC, Jazz FM, the entire Bauer News Network and a plethora of both BBC and commercial radio stations.