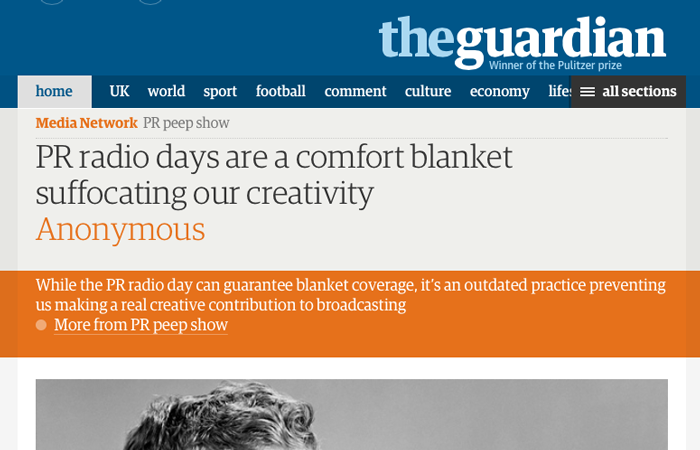 In response to "PR radio days are a comfort blanket suffocating our creativity"
You may have seen a blog in the "PR Peep Show" section of the Guardian's Media Network about "radio PR days". Here's what I think.
First, sorry for coming to the party so late.
Give me a second to set my stall: My background is in what the industry calls "Broadcast PR" – I run an agency and part of our work here is on "PR radio days" (the inverted commas are because I dislike both terms). And I agree, to a degree. I'm currently writing a blog on 'Broadcast PR says "it's time to kill off the radio day"'… more on that later.
Where I disagree though is that the 'radio day' is the culprit, it's not. When done badly it's simply the culprit's messenger. A fair bulk of my time is spent telling people what it takes to make the airwaves in a way that will have a genuine impact – and the formula isn't that complex: A good story and good content. But…
… the PR industry has had to change drastically – and that shift has meant we're talking in terms of 'campaigns', not 'stories'. It's an understandable move. However, The Today Programme doesn't want to give your 'campaign' some free airtime, of course it doesn't. I know it's old-school, but the art of understanding what makes a great story and building the narrative and content around it isn't always as strong as it should be. As a result: those 'campaigns' that lack great news storytelling live on the community stations you mention – and not on big broadcasters.
So why is it time to kill off the "radio day"? Well, why would you put out a story that you felt would only live on a few radio stations? Why isn't it strong enough to live on BBC Breakfast, Channel 4 News, The One Show, Countryfile or This Morning? For me, PRs don't always give radio the respect it deserves and therefore create campaigns just for radio, thinking that an average story will get great results. It won't.
But when it's done well – and a 'radio day' is used as a tactic that is part of a bigger picture – the results can be outstanding. And far beyond a bit of awareness and reach, it drives outcomes. One example is when we worked with an animal welfare charity across a number of stories over three years. All of the stories had at their core the message that the government should introduce compulsory micro-chipping for dogs. From April 2016, this will come in to effect. I'm sure media was far from being the only driver for this, but the coverage got people, MPs included I'm sure, on board.
And my personal story of behaviour change driven by radio: I heard Hugh Fearnley-Whittingstall on radio promoting his Chicken Out! campaign, I read it in the papers and online, then I watched the TV show. Now, despite the cost, I only buy free-range chicken. And ending on a sentence like "I only buy free-range chicken" is a great place to stop before I sound any more middle-class.
Joe Dyble, Co-Founder of ON-Broadcast Communications